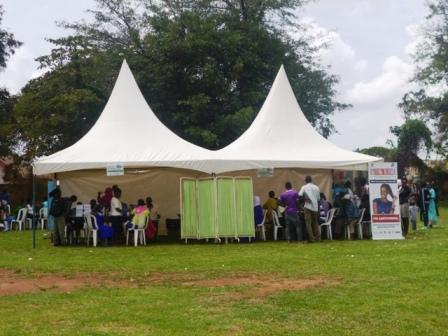 MYDEL Medical Health Camp 2017
On Saturday 21th 2017, Mengo Youth Development Link (MYDEL) in partnership with Rotary Club Kampala organised a Medical Health Camp at the Old Kampala Secondary School. The aim was to offer free health care and treatment for the community, including for the most vulnerable children and youth from the slum areas in Kampala.
The event attracted more than 1850 people, including 210 street children and 180 refugees from Somalia.
The free treatment included amongst others: Eye care, Dental Care, Cervical Cancer Screening, Immunization, Reproductive Health, HIV/AIDS testing and counselling, counselling on family –planning as well as general treatment services. In addition a pharmacy was set up which provided free medicine.
MYDEL also provided food and refreshments for the street children and assured that they receive the necessary treatments at the camp.
The Medical Health Camp was a huge success and we would like to thank all people who contributed to realise this event. Special thanks go to Rotary Kampala Central and the Rotary Family. Also we would like to thank all local leaders and people who supported the mobilization of the community. In addition we would like to thank all volunteers for their support.